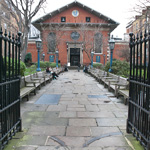 Planning Policy Statement 5 published in the spring of 2010 has become the focus of attention for the heritage sector and HTF is working with many others in the sector to ensure that practitioners are equipped to deal with changes in policy and with the budget cuts which are inevitably going to hit this sector very hard. Read more:
HTF welcomed the Government's Statement on the Historic Environment of England 2010.  The vision provides a firm statement of intent and properly emphasises the crucial links that heritage has with social, economic and cultural well-being.  Read more:
Heritage awareness in higher education: HTF is working with English Heritage to explore how great a part heritage plays in the degree courses for planning, architecture, urban design and other professions.  Following extensive research a number of higher education institutions will join a pilot project to develop good practice and teaching and learning resources.  For more information contact HTF Director at [email protected]

Conservation Area awareness among owners: Research and anecdotal evidence demonstrates that many property owners may be unaware of the fact that they live or work in a Conservation Area. HTF is piloting a 'leaflet' which can be customised by local authorities and made available on line or delivered through the door with information and contact details for residents and businesses. For more information contact [email protected]

The Heritage Protection Review promised changes to legislation and policy guidance, and although it was not included in the Queen's Speech in 2008, we were assured that 18 out of the 26 proposals could be implemented without primary legislation. HTF works closely with English Heritage to ensure that the new guidance takes account of the resources available to those charged with its implementation - local authority officers, and to develop appropriate training.
HTF Response to PPS15 Consultation
HTF Press Release
Planning and Protection for Quality Places - 2009 Annual Conference Report
Conference Presentations

An event in partnership with Bircham Dyson Bell – The Future of Heritage Protection - addressed the implications of PPS5 and changes to the planning system, post election. - The conference report and presentations will appear here soon.

A series of seminars 'Managing Heritage Assets for Added Value' was delivered across England, aiming to support those in local authorities responsible for strategic management and policy making. Seminar series report

The 2009 HTF Annual Conference – 'Planning and Protection for Quality Places' – explored many aspects of heritage protection, heritage assets, conservation areas at risk and the value of townscape. View the conference report here:

The Annual Conference in 2008 held in Lichfield - 'Townscape in Focus: challenges and opportunities' - looked at many of the tools available to practitioners including Article 4 Directions, local listing etc.

Mark Challis of Bircham Dyson Bell (legal advisers to English Heritage) gave the benefit of his expertise regarding PPS5 to HTF in a newsletter article in May 2010: Read the article in full.

The Government set out its aim that "the historic environment and its heritage assets should be conserved and enjoyed for the quality of life they bring to this and future generations"  in the recently published Planning Policy Statement 5: Planning for the Historic Environment. Read more.

The HTF response to PPS Planning for a low carbon future in a changing climate can be seen here:

Guidance Documents

News Articles

In 2006 the Forum, together with the University of the West of England (UWE), carried out research and a series of training seminars in six locations around the country to develop good practice in Conservation Area Appraisals and Management Plans.
'Conservation Area Management - A Practical Guide' publication is still available at the special price of £5 - further details
'Making better planning applications'(2003) and 'Making better applications for listed building consent'(2005) offer straight forward guidance to anyone making applications and are available to download, free of charge.

Articles from HTF e-news and previous editions of NEWS which relate to this topic can be seen here.