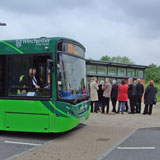 Park & Ride has been a significant element of transport strategies in historic towns for many years and the EHTF
guidance documents
helped to establish good practice. However P&R is not a panacea and together with recent advances in technologies, it is necessary to up date this guidance and to offer information to support decision makers.
Following the conference – "Park & Ride as part of an integrated transport strategy" - held in Winchester early in 2009, a task group made up of representatives from RPS, Sustrans, the BPA, Colin Buchanan, the IHE, and members of HTF, was set up to disseminate the conference outcomes and to develop a new web-based guidance vehicle.
This web page and its links will be built on over the next few months to bring together expert advice, case studies and other information, as well as continuing to collect data to inform its development.
Your contributions are very welcome. Please complete the survey, if you have not already done so or contact [email protected] to contribute to the Case Study library.
More details will follow soon.
Conference Presentations

Case Studies

A conference – "Park & Ride as part of an integrated transport strategy" - was held in Winchester in 2009, to explore the issues surrounding P&R and some innovative solutions to traffic management problems. View the conference report and presentations.

Case Studies offer real examples of good practice and of what might be avoided. The usefulness of this collection will be enhanced by contributions from those with a range of experiences. Please send your comments and contributions to

[email protected]


Winchester Park and Ride

Survey

News Articles

RPS undertook a survey on behalf of HTF, the interim results of which were presented to the conference held in Winchester. The survey has been re-opened in order to collect more data and contributions are very welcome.
Articles from HTF e-news and previous editions of NEWS which relate to this topic can be seen here.