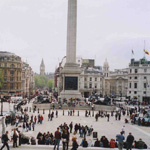 Tourism continues to put pressure on our historic towns and cities, especially as smaller towns become aware of the 'benefits' of tourism, but not necessarily of the potential costs.
HTF in the Republic of Ireland 2009
In July 2009 a small group representing the Forum took part in a conference in Kilkenny Castle sharing good practice on Placemaking, using case studies in Cork, Youghal and Waterford, as well as exploring Kilkenny.
In partnership with Fáilte Ireland, the conference will include a Tourism workshop. Inspired by the Forum's good practice guidance documents on tourism, the Irish national tourism organisation aims to produce its own guidance, using this workshop as a sounding board, see more.
A conference held in Morecambe in June 2008 looked at 'Tourism in historic towns - a quality offer'.
'Focus on Tourism'(2006) offers principles of good practice and practical methods of management and Making the Connections (1999) offers comprehensive guidance to managing tourism.
'Code of Practice for Coach-Based Tourism'(2002) which offers guidance to operators and managers is available to download free of charge.
Identity, Diversity and Tourism - "Tourism is just one of the many forces for change affecting historic towns and should not be treated as a scapegoat". This was the message given by Ian Poole (then EHTF Vice Chair) at the 2006 European Association of Historic Towns and Regions (EAHTR) Symposium in Dubrovnik at the end of September.
The need for more and better statistics has been identified and HTF continues to play a role in developing improved data collection and dissemination, and work towards the development of sustainable tourism. The additional competition from an enlarged Europe is another area which needs addressing if England is to use its historic assets to maximum benefit.