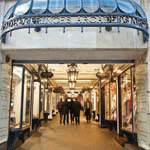 The demand for expansion of the retail offer in many historic towns, in order to remain competitive and economically viable, has created a challenge for those wishing to protect and enhance local distinctiveness. The more recent economic downturn offers a chance to reflect on the best way forward in this dilemma.
An event held in Cardiff in May 2010 – "The role of retail development in economic regeneration"examined the role of retail development in economic regeneration and its impact on historic city centres, using St David's 2 Dewi Sant as a case study. View the speakers' presentations and conference report
An article by Ian Anderson, Head of Retail and Leisure Planning at CB Richard Ellis - "Planning for prosperous town centres? - PPS 4 – its impacts & implications" looked at the possible way ahead.
In  York in September 2009 leading experts from both private and public sectors offered new information on retail development - see report 'Retail development in historic towns: time for reflection'
Breakfast in Bath on 12 March 2009 was a chance for Members and non-members in the SW region to network and to learn about the Cabot Circus and Southgate developments in Bristol and Bath.
HTF partner John Lewis Partnership hosted a seminar on 2 April 'New retail opportunities: the key to regeneration in town centres?' - at the Leckford Estate in Hampshire which brought together an invited audience of representatives from local authorities in the south west to discuss the policy implications of new Planning Policy Statements 4 / 6.
'Focus on Retail' was launched in March 2008 at a conference held in Exeter - 'Retail development in historic towns: case study Princesshay'.
Previously conferences were held in Bristol (2007) looking at the Cabot Circus and in Birmingham (2005) exploring the Bull Ring development and the issues surrounding retail-led regeneration.
'Retail Development in Historic Areas' was published in 2005 in partnership with English Heritage.
Articles from HTF e-news and previous editions of NEWS which relate to this topic can be seen here.