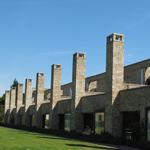 Historic towns and cities are environmentally attractive, offer a good quality of life, are frequently prosperous and are, in varying degrees, models of sustainable development. It is in part a consequence of these qualities that historic towns are facing the challenge of unprecedented growth. It is important to find strategies to deal with this in ways that not only conserve the identity and sense of place of the existing town, but also try to ensure the creation of distinctive sustainable new communities as part of them.
Architects, conservationists and planners are familiar with the challenge of fitting individual new buildings and small infill developments into an historic environment. Growth poses the quite different challenge of how to successfully integrate major developments, regeneration schemes and urban extensions into existing historic towns. There are challenges of infrastructure, partnership working, working with major national developers, the tension between modernity and pastiche and how to learn from the past and the present when building at this scale.
The HTF has explored ways of responding to the growth agenda through conferences and publications. Key issues in effectively addressing the growth pressures include:
Conference Reports
& Presentations

Case Studies

The Historic Towns and Smarter Growth conference was held in Cambridge in April 2009.

View the conference report and presentations.

The Conference in Cirencester in 2006, 'Designing for housing growth: sustaining historic towns' brought together people with experience of the issues, with a view to identifying and disseminating good practice.

In December 2004, as part of the Focus on... seminar series, EHTF held a conference in Ely - 'Focus on... managing rapid growth in historic towns'.

New England Quarter, Brighton  - Mixed use development of former railway land

Accordia, Cambridge

The Impact of Growth on the City, Cambridge

Developing Community Engagement, Cirencester

Icon, Street, Somerset

Upton, Northampton

Europe
Freiburg (Rieselfeld and Vauban), Germany

Waterfront Housing in Amsterdam, Eastern Harbour

Visit

Urbed's

website to see Urban and Economic Development Case Studies

If you have an example you would like included, for colleagues to share, please email

[email protected]

 

News Articles

Articles from HTF e-news and previous editions of NEWS which relate to this topic can be seen here.